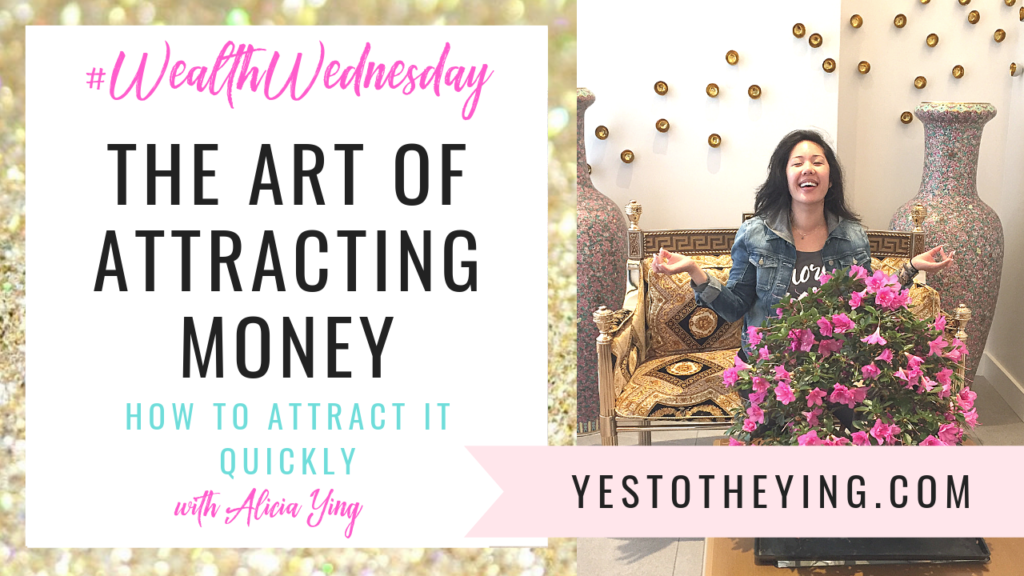 Happy Hump Day! Or in my world, it's #WealthWednesday!
The art of attracting money.
Sometimes it can feel like a bitch. 
STORY TIME!
With six planets in retrograde now, I started to get upset that sales started dwindling down. 
This can't happen!! This was not my intention!! I wanted sales to be consistent!! How can I reach my sales goals in my clothing boutique if I stop getting sales!! WTF!!
I started scrolling through my items, trying to reduce prices, change wording on the descriptions, share more of my items… it was exhausting.
(Yeah, I totally had a freak out moment)
I wasn't getting as many offers and then I got an offer!
Yay!
NOT YAY. 
It was a shit offer. 
Like 50% or more off of my asking price.
Um… yeah, NO.
That's fucking RUDE. I'm not taking that.
Or should I?…
I started to feel this twinge of self-doubt creep in. Maybe I was asking for too much. Maybe this is the only chance to sell this item. Maybe I should just be grateful for the offer and move on.
Then my guides spoke to me:
THERE IS A BUYER AT EVERY PRICE POINT.
[cue choir of angels singing]
That's right! There really is a buyer at every price point!
There is someone who is willing and able to buy things at full price.
There is someone who is willing to buy with a discount.
There is someone who is only willing to buy it for a cheap price.
But THERE IS A BUYER AT EVERY PRICE POINT.
And the only difference between attracting ones who will pay full price (or give reasonable offers) vs those who are just trying to low-ball you is…
YOUR ENERGY.
That's right! Your energy and your beliefs is what determines what kinds of buyers will buy from you!
SOLUTION: SHIFT YOUR ENERGY.
Got it Angels! Thank you!
I decided and envisioned those incredible women who discover my clothes, love the item so much, they either buy it at my asking price or send me a reasonable offer! And I envisioned them receiving their coveted item and falling even more in love with it in person and are so grateful for scoring such a good deal on it. Their confidence boosts, their day is made, and they feel like a million bucks all from the purchase that they made at my store.
And then I sent that intention up to The Universe, put my phone down, and watched "America's Got Talent".
Well, what do you know? Magical miracles really do happen because–
The moment I relaxed and forgot about it and just TRUSTED that The Universe had my back–
BOOM!
Two sales within 30 minutes! At my asking price!!
(Thank you, Universe!)
MORAL OF THE STORY: The art of attracting money is not just about pricing things right. The art of attracting money is about ALIGNING YOUR ENERGY TO THE AMOUNT OF MONEY YOU WANT TO MAKE.
And the best way to align your energy to the amount of money you want to make is to:

focus on how your product/service will benefit others

Focus on feeling how good it will feel to receive the money you desire

Have faith and truly believe that The Universe will deliver it to you
It's all about service and Source (aka God/Angels/Universe). Work WITH God/Angels/Universe to attract the money you desire. You don't have to do it alone.
Here's a helpful prayer:
God/Angels/Universe– 
Please deliver me an overflow of the money I desire.
I choose to do good with this money and I am ready to receive it.
If there is an action that I need to take, please give me clear and obvious signs as to what I need to do.
I am willing to do my part.
Amen.
Let me know if this helps! 
And if you still have some money blocks and would like to attract more money– even during a retrograde– email me! I am still looking for a few more secret superheroes who are ready to choose a new money story and use their Zone of Genius to create a lucrative side hustle! This is only for people who are ready to make a change! If that is you, CLICK HERE to apply! 
YOU ARE BRAVE
YOU ARE BEAUTIFUL
YOU ARE POWERFUL
AND YOU CAN ATTRACT ALL THE MONEY AND WEALTH THAT YOU DESIRE EASILY AND QUICKLY!
Because Success starts by saying YES to YOU.
I love you so much!
Sending you lots of money attracting juju!