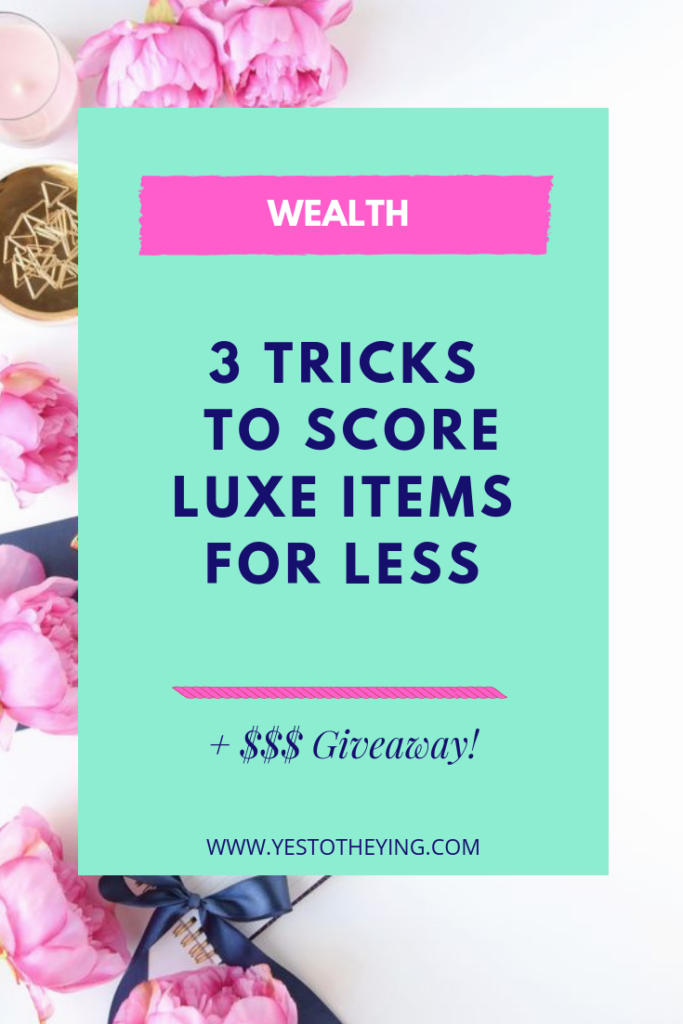 Hello Beautiful!
Happy Memorial Day weekend! It's Sunday, and I thought I would share with you some Smart Savvy Shopping & Money Tips!
If you would like to know how to afford all the luxurious things that you want, read on! I'm gonna share with you my favorite tips on how I am able to buy name brand items and super low prices.
PLUS— I wanna give you some cold hard CASH to help you buy something that will make you feel beautiful and confident and rich AF! #becauseyoureworthit
I personally LOVE shopping. It makes me really happy to see all the pretty things (we spiritual beings are meant to enjoy the physical pleasures of this world) AND I am OBSESSED with scoring a really good deal!
My best friend used to tell me that I like finding deals because I'm a cheap Asian, but that is not the case. I don't find deals because I'm cheap or think that I can't afford it. I find deals because it gives me a huge RUSH when I score a good one! Like winning big at blackjack in Vegas!! I seriously feel like I WON!! And that makes me feel RICH. And as we all know, money goes where your thoughts flow. So if you think rich thoughts, you will get rich things (and it usually involves receiving windfalls of money pouring into your bank account! Need proof? Read on!)
I digress.
Scoring good deals.
Click on the image below to watch me talk all about it on video!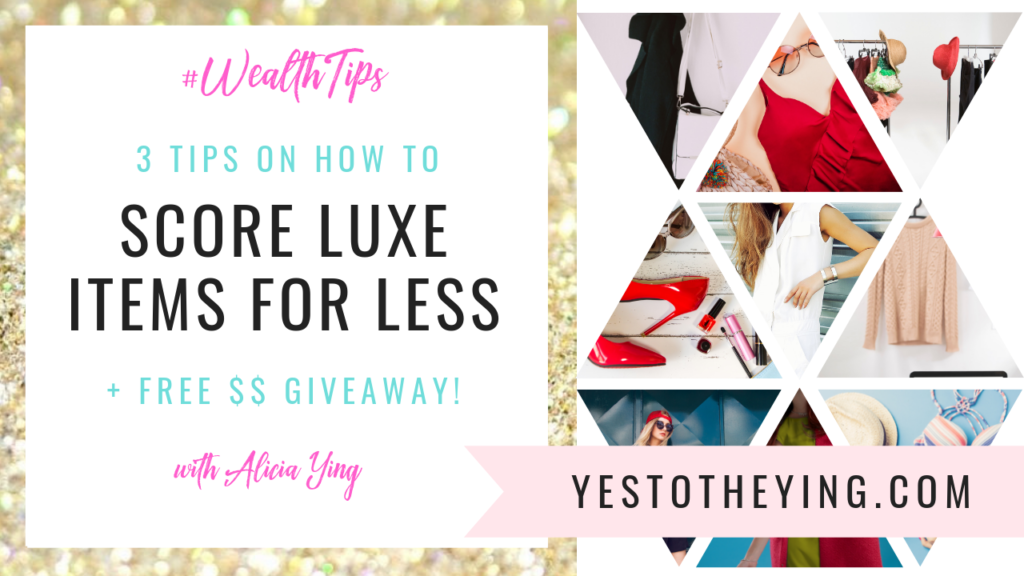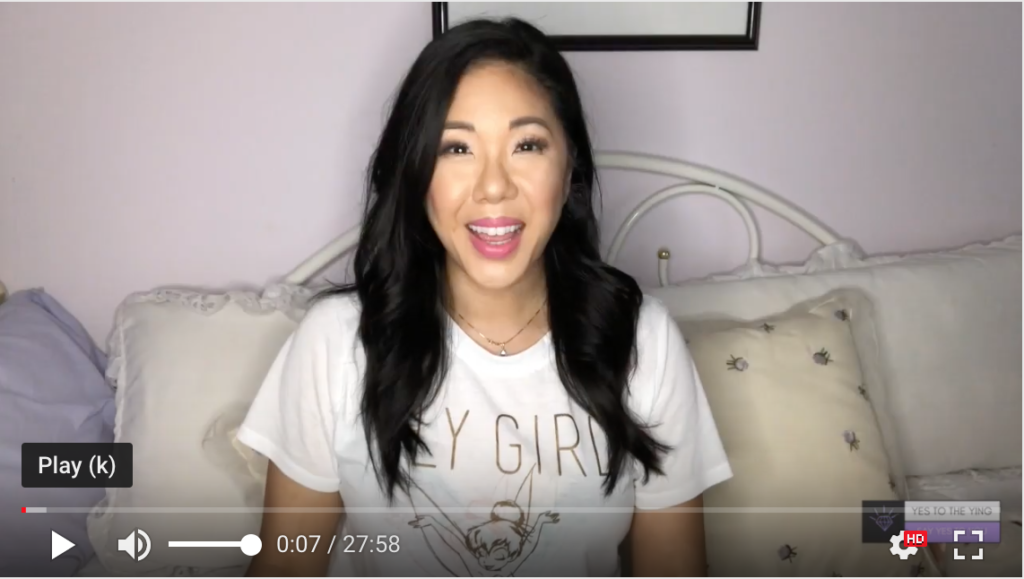 Or Click on my face above to watch me talk all about it!
Or if you like to read, continue reading below!
TIP #1: START TELLING A RICH MONEY STORY
I am really smart with money. I used to think I wasn't. But a good friend of mine pointed out at how savvy I was at finding great deals for sought after items and was really impressed at my mentality about it all. She insisted that I wasn't frugal at all, but that I was smart AF about how I spent the money I had. I really liked that outlook, so I started changing my money story. I started telling myself that I was really smart with money and that I could always afford whatever I wanted whenever I wanted. And that every dollar I spent always came back to me tenfold. And now it does. And it feels f*cking fantastic and liberating AF!
TIP #2: MAKE A GAME OUT OF IT
In order to get into that high vibe money attracting state, I love to play the game "I Can Afford That!". Whenever I would go walking around the mall (or even when I went to Target), I would go around and see something I liked and say, "I can afford that!" For example, if I saw a hoodie I loved and it as $25, I would say, "I can afford that!" And technically I could. I had $25 in my bank account to buy it. And if I had $100 in my wallet, I could buy FOUR of them. That feels abundant and rich to me! I would continue to do that until I felt really good about money. Without spending a dime. But I would feel richer. And 9 times out of 10, I would end up making a sale later that night. Try it out for yourself and see if you start to become a money magnet too!
Attracting money can be easy and FUN! #justsaying
TIP #3: LISTEN TO YOUR INTUITION AND DO WHAT IT TELLS YOU TO DO WHEN IT TELLS YOU TO DO IT
This is by far THE way that I find the best deals. I quiet my mind and then listen to my soul. I'll randomly get an idea like, "You should go to Nordstrom Rack right now," or "Go check your email". And whatever that hair-brained idea is, I will go do it right then and there. That's when I will see that extra 25% off clearance rack full of luxe items for 85% off or I will catch that email with a Flash Sale for my favorite brand of clothing (p.s. Spiritual Gangster is having a site wide clearance where everything is an extra 30% off— including sale items! Use this link to get an extra $20 on your first purchase!) This is how I scored this Rails Jacket (original price $188) for only $11.40 and how I scored this Pam and Gela Superstar tank (original price $75) for only $0.01!
I get what I want whenever I want it at a price that I can easily afford.
EVERY. SINGLE. TIME.
And YOU CAN TOO!
To help you score a beautiful item that will make you feel confident and beautiful and rich AF, I'd like to give you $10 to shop on Poshmark!
Here's how it works:
Type in my invite code

THEALICIAYING

when you sign up for a new account on Poshmark. Click here to sign up for a new account.
If you add my Invite code

THEALICIAYING

at signup, you will get $10 credit to shop on Poshmark! (hooray for free money!!)
NOTE: your first purchase must be a minimum purchase of $3. Easy enough though, right?
DOUBLE NOTE: if you don't use my Invite Code

THEALICIAYING

when you sign up, you will NOT get $10 credit. So, why not get the free money? I'm just saying! (Use my Invite Code! #sayyestomoney )
P.S. This is a limited time offer! It will go back down to $5. So, why not sign up today (it's FREE to join) and claim that $10 credit (again, use my Invite code THEALICIAYING). You can't lose. It's a no risk situation! #igotyou
You can use it to buy something from my boutique or shop around to find something you love! There's TONS of stuff at really great prices! And if you need help, you can always email me and I will totally help you find something you LOVE!
AND— to make the deal even sweeter (because um, DUH— I LOVE scoring good deals!), if you use my Invite Code THEALICIAYING to sign up for your new account, I will give you 50% OFF any 1 clothing item in my boutique! How great of a deal is that?! #goodvibesalways
If you don't know yet,
Poshmark
is the #1 social shopping marketplace in the US where people can buy and sell new/used clothing, shoes, and accessories. It's where I have my own clothing boutique set up to earn extra cash and let me tell you— it is a REALLY fun place to shop and sell!
(p.s. if you are interested in learning how to set up your own Poshmark boutique so that you too can earn some extra cash on the side,
click here
. I'm gonna share with you how I gained 40k followers and leveraged other platforms to earn an extra $500-$1000/month!)
HOW TO RECEIVE YOUR FREE $10:
CLICK HERE to create a brand new Poshmark account. Click on the blue words "INVITE CODE" at the bottom of the sign up page. Type in THEALICIAYING into the Invite Code bar. It's really simple AND FREE to join. You do have to create a NEW account. So if you are already on Postmark, you won't be eligible to get the free $10. (Or if you already are a member, you can always use a different email to sign up for a new account. #savvyhack Just make sure to enter my invite code THEALICIAYING when you sign up. Otherwise it will not go through!
Search by brand or by category for something you'd like to own.
Make sure it is at least $3 minimum and purchase it.
Your $10 credit will be used towards your first purchase!
RECAP:
Create a NEW account and add my Invite code THEALICIAYING in order to score $10 credit
If you want to buy something from my boutique [click here], let me know and I will give you 50% off any 1 clothing item! AND you can use that $10 credit towards that purchase!! #bargaindeals
I hope you found this helpful and inspiring! You really can afford the life that you desire and it doesn't always have to cost the full price tag! It is totally possible for you to be able to experience your dream life NOW. And it can be EASY and FUN!
Let me know by
emailing
me if you decide to sign up for Poshmark or if you have any questions about signing up or about my money tips. I'd love to hear from you!
Here's to a magical and money attracting Memorial Day weekend!
i love you so much!
OH—
And always remember:
YOU ARE BEAUTIFUL
YOU ARE POWERFUL
YOU ARE WORTHY AND DESERVING OF ALL THE MONEY AND LUXURIOUS THINGS THAT YOU DESIRE!
YOU DESERVE TO LIVE YOUR BEST LIFE NOW!
AND— Success always starts by saying YES to YOU.