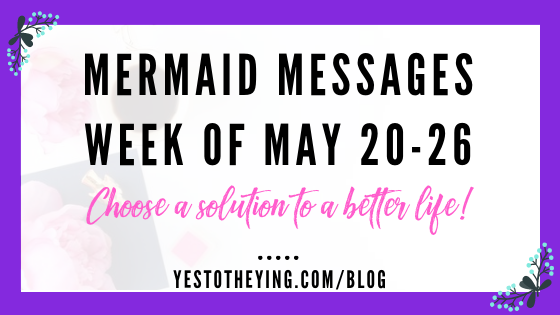 Weekly Guidance 5-20-19
It's Monday again, which– if you are rolling your eyes and groaning, fear not– I've got some weekly guidance for you from the Magical Mermaids! #magicalmonday
I always like to channel spiritual guidance from The Universe to help me prepare for the week ahead, so I thought I would share with you that guidance so that you too can be prepared for the upcoming week's energy!
This week, I'd like to give you some weekly guidance with my Magical Mermaids Oracle deck!
If you haven't done this before, it's really fun!
I'll choose 4 cards.
You choose card 1, 2, 3, or 4.
Then I'll reveal what each card is and channel guidance as to what the card means and what messages are there for you!
Super uplifting and fun way to get some loving guidance for this week, especially after that full moon in Scorpio on Saturday. Woof– that was a BIG one!!
Watch the video to pick a card, get some guidance, and also give you some helpful tips on how to navigate through this week's energies. (I even talk at the beginning about the full moon in Scorpio's energies and how you can use it to create your dream life this week! Super helpful tips included!)
And the theme of the week is: CHOOSE A SOLUTION FOR A BETTER LIFE!
Check it out by clicking on the image below: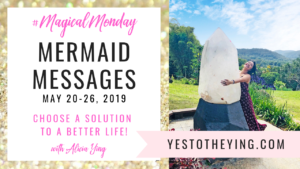 After you watch the video, comment below and tell me which card resonated the most with you and what guidance you liked the best!
And if you are really ready to build your own business like me, email me to apply for my VIP 1:1 mentorship where I will walk you through step by step on creating your own successful, wildly profitable business that you love!
Or if you want to get your own personalized tarot reading (I call them PMT readings — Psychic Medium Tarot readings — click here to book one!
Channeling guidance is one of my favorite things to do! Only clear and loving guidance from me to help you achieve the love and money and spiritual powers you desire!
Remember:
YOU ARE BEAUTIFUL.
YOU ARE POWERFUL.
YOU ARE WORTHY OF EVERYTHING YOU DESIRE!
YOU ARE WORTHY OF IT ALL! #liveyourbestlife
Success starts by saying YES to YOU!