THE FAIRIES WANT YOU TO KNOW THAT…
THIS IS THE WEEK TO FOCUS ON ALIGNING WITH YOUR TRUTH!
Hello my lovely kickass crew!
How has July been treating you so far? If you're anything like me, you might have been feeling a ton of old shit rise up to the surface. Maybe you have been feeling a bit emotional or on edge. Maybe you've been feeling oddly grounded.
It's all due to the official start of this ECLIPSE SEASON!
(If you want to know more about what astrologically is happening this month and why it's affecting you, read my July Forecast here.)
Because this month is all about releasing that deep karmic baggage, I wanted to make a concerted effort to help you in as many ways that I can. Because, um… DUH— I'm all about spreading the love, y'all! So, let's rock the love, people. Rock. The. Love.
Speaking of love, the Fairies wanted to give you some guidance to help you through this week. (Thank you, Fairies!)
So here is what they have to say:
(NOTE: These are just suggestions and are meant as clear and loving guidance from The Universe. Take and apply what serves you. Trust your gut. You know if they are talking to you or not.)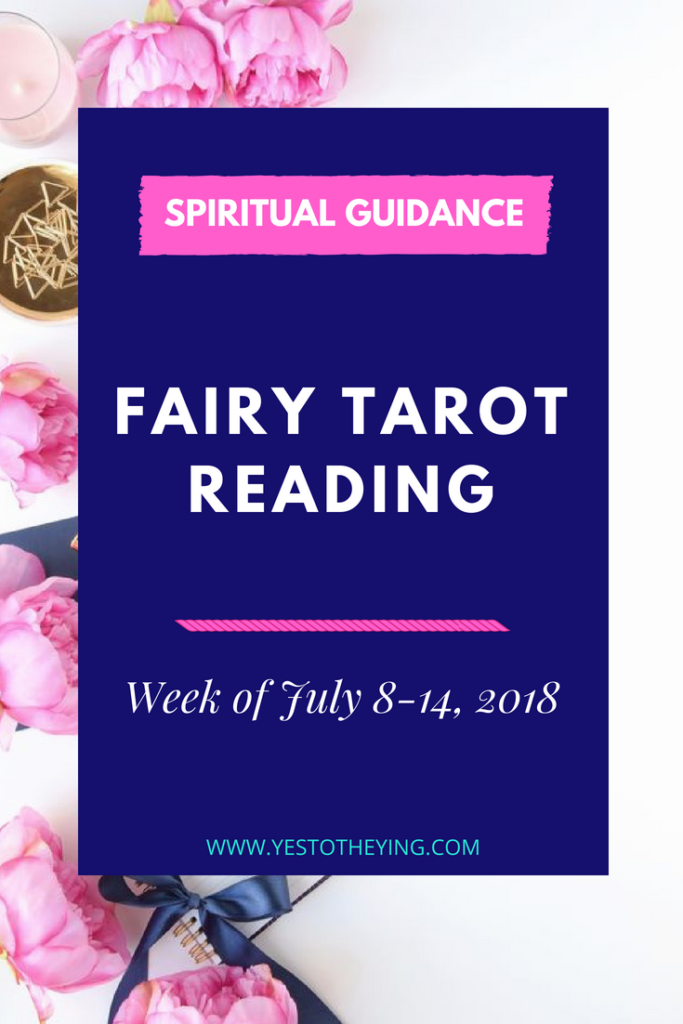 FAIRY GUIDANCE FOR THE WEEK 7/8-7/14
OVERALL MESSAGE: 
Let go of worry or fear, align with your truth, and be yourself!
CARD #1: KING OF AUTUMN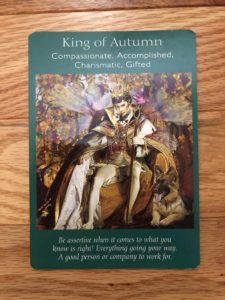 You have the Midas touch when it comes to entrepreneurial endeavors! You truly have a heart of gold and your mission to save the earth is part of your destiny! You love to fight for what is right and that is what you must do this week.  Remember that YOU — YES YOU — have all the power within you to create the abundant life that you desire! Connect to your mission, own your worthiness, and share your message with the world. Good things are on its way to you as we speak!
CARD #2: SIX OF SPRING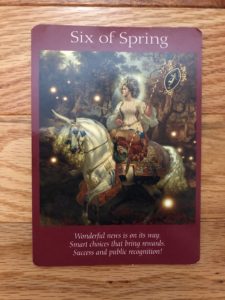 This week is a week to bask in the glow of your accomplishments! Allow people to see the wonderful things that you have created. Be visible and vocal about your beliefs. Let your unique talents and passions be known. You are a role model, showing others what is possible! Wonderful news is on its way to you!! It may be a promotion, a new career opportunity, or even an award. Keep your arms open to receive these gifts because positive recognition for your hard work is at hand.
CARD #3: 18 THE MOON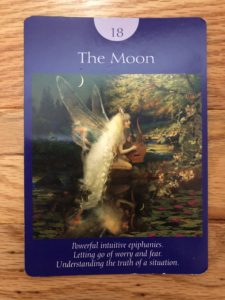 It is no accident that this card came up when this is an 18 universal month in Numerology! (click here to read more about what that means!)  The Universe is sending you messages right now about the perfect next step to take. Listen to the guidance you receive in the form of intuition, synchronistic events, symbols, and sleeping dreams. Be alert for people or situations that may not be quite what they seem!! This is a great week to get a psychic reading. Embrace the loving information you receive… it is Divinely inspired!
WORRY IS UNNECESSARY AND WILL ONLY SLOW DOWN YOUR PROGRESS! There is no need to be afraid. Let go of fear. If any part of your lief no longer feels right, then trust your intuition and make the necessary changes.
If you would like to get a psychic reading from me, I am opening up 18 slots for 1:1 30 minute readings! Click here to book!
CARD #4: QUEEN OF SPRING (Overall message)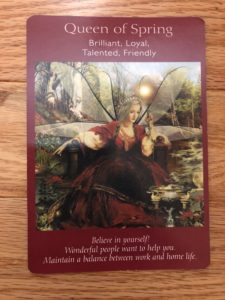 BELIEVE IN YOURSELF! Trust in your own abilities to make magic happen! You have the power to make everything happen with ease and grace. Tap into why you are so passionate about your work and take action accordingly. You are a true friend and people love you so much! You are brave. You are powerful. You are so worthy! Put on your crown and wear it proudly! It's time for you to step up as the king/queen of your kingdom!
I hope that this helps you this week and brings you some clear and loving guidance that you were looking for! The fairies want you to succeed. The Universe wants you to succeed. And I want you to succeed!
SPECIAL OFFER: To help you succeed, I am opening up 18 slots for 1:1 30-minute psychic readings! Click here to book! This week only!
WHAT CLIENTS HAVE BEEN SAYING:



As you know, I don't do single sessions anymore, but I felt like some of you needed them. #listentotheuniverse
SO—  in honor of The Moon (the 18th card in the tarot) as well as this being an 18 numerology month, I am offering 18 1:1 30-minute psychic readings! Book one before they are gone!
(note: this offer is only available this week. Offer ends Sunday, July 15, 2018 @ 11:59pm EST. Must book and redeem this week!).
As always, follow your soul, trust your intuition, and always remember—
Success starts by saying YES to YOU.
xoxo,
Alicia
SaveSave
SaveSave