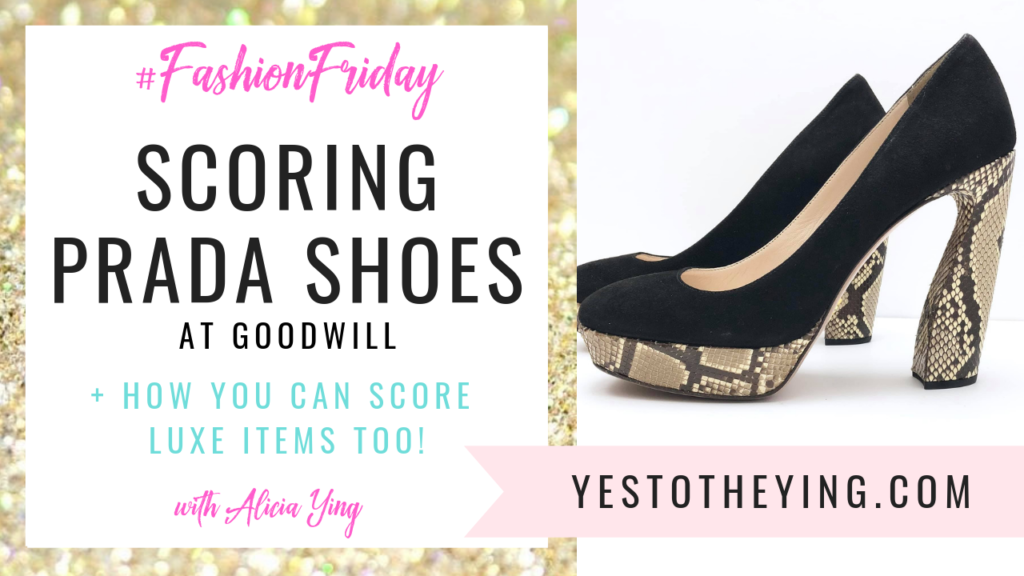 TGIF my beautiful friends! Are you thrilled that it's finally Friday?!
I don't know about you, but this has been a really eye opening week. With Neptune in retrograde and the energies shifting from Gemini's fast fast fast to Cancer's emotionally sensitive state, I have found myself getting a big smack in the face of what I REALLY don't want so that I can let that shit gooooo, shift my energy, and focus on what I DO want.
I REALLY don't want to struggle to have nice things. 
I REALLY hate thinking that luxury items are "too expensive".
(Because it makes me feel unworthy and poor, and I REALLY do not want a lack of money mentality– yuck!)
What I DO want… 
What I REALLY want is…
Always having nice things quickly and easily!
Being able to score luxury items at a great price that I can always afford easily and effortlessly!
Like, Prada Kitten Heels for only $10.
Say WHAAAAT???
Or Prada Snakeskin Heels for only $15!
Say WHAAAAT???
Yup! I believe I deserve those things and guess what? 
THE MOMENT I DECIDED THAT'S WHAT I DESIRED, THE UNIVERSE GAVE IT TO ME!! #manifestingqueen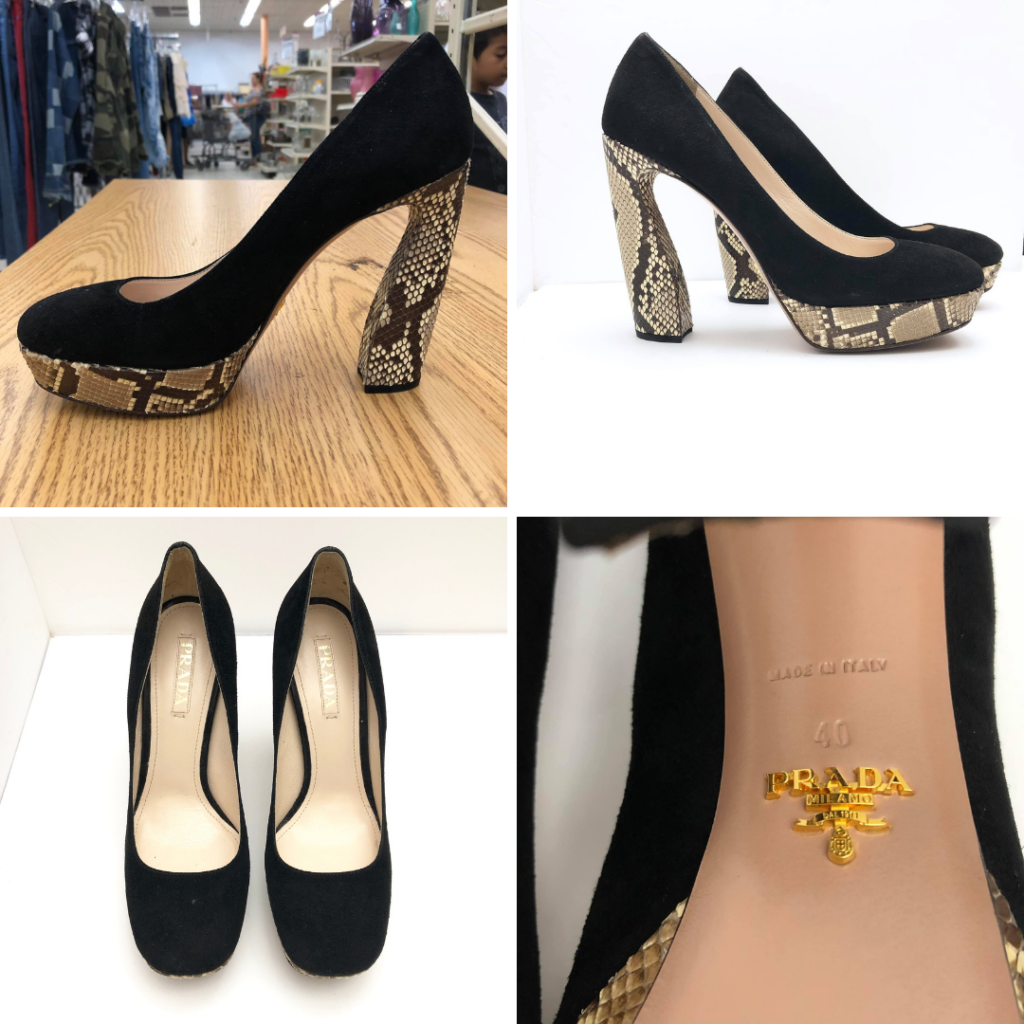 HOW I SCORED THESE INCREDIBLE DEALS:
So… I kind of started getting obsessed with thrifting. It's fun for me to shop and discover a treasure!
So, the other Saturday, I woke up and had an urge to check out what yard sales were around me. Sure enough, there was one that was within walking distance of my house.
I went to check it out– literally for shits and giggles– not expecting to find anything–
And… BOOM!
An older lady was downsizing and was getting rid of a lot of stuff.
INCLUDING A PAIR OF PRADA KITTEN HEELS! 
IN MY EXACT SIZE!!!
Of course I tried them on and they were a perfect fit. So I ended up buying those PLUS a pair of Tory Burch sandals PLUS a pair of Soludos for the big price tag of–
$20.
YES!!
#dreamlife #inlovewithmylife #luckyAF
CUT TO: a few days ago.
I was perusing around Goodwill
— again, not really looking for anything in particular–
Was looking through the shoes and–
BAM!
PRADA SNAKESKIN HEELS!!!! 
OMFG– I thought I had died and gone to heaven!!
These were NOT in my size (they are a EU 40 / US 9.5), BUT–  I had to get them because I had this total AH-HA moment–
I would LOVE to sell these to a fellow female at an affordable price so that she can look and feel luxurious and glamourous AF whenever she wore these heels!
I love shopping and I love helping people (men and women) find incredible items that make them feel confident and beautiful AF so that when they go out into the world, they can let their true authentic selves shine and attract all the money, love, and success that they deserve and desire!
SO– if you are that fabulous female, comment below and let me know that you are interested in them!
The point of this whole story:
In order to start creating the life you've always wanted
You HAVE to let go of shit that is weighing you down (people, stories, beliefs, etc) and focus your attention on what you DO want.
And when you declare decisively to The Universe what it is you want and believe that The Universe heard you, The Universe will deliver it to you time and time again!
And if you need help letting some of this old shit go (beliefs, stories, patterns),  email me to apply for VIP 1:1 coaching with me.
Because let me tell you something– I did not score those Prada shoes because I searched high and low for them. 
I did not scour the racks desperately hunting.
I did not spend hours on the internet researching where I could find Prada shoes for less.
I simply told the Universe I wanted to have more nice things, shifted some beliefs, made myself an energetic match to what I wanted, and then got those things almost immediately!
It's not a practical research thing.
It's a spiritual/mental vibrational thing.
And I love helping people become an energetic match for what they want.
Because it is so rewarding when I get an email / message saying that they got that unexpected windfall of money or met a super cute guy or manifested a huge luxury item they had been coveting. 
All I want is for you to win at life!
You deserve to get anything and everything you want with ease!! And fun! That is what I am all about!
AND– if you aren't ready to work 1:1 with me, but would like to get some incredible clothes that will make you feel beautiful and confident AF, then check out the items I have for sale in my Poshmark closet: CLICK HERE TO CHECK OUT ALL THE FUN ITEMS! 
(If you are not on Poshmark yet, sign up for free and use my invite code THEALICIAYING to get $10 off your first purchase! ***NOTE: at the bottom of the signup page, click "Invite Code" in blue and enter THEALICIAYING in order to receive the $10 credit! If you forget to do it, you will NOT receive the credit!)
I've got a whole range of amazing pieces including Free People, Express, Tommy Hilfiger, White House Black Market, Lululemon, G-Star Raw, Prada, All Saints, and of course– Disney hehe! OOH– there's a Gryffindor sweatshirt for any of my fellow Harry Potter fans too!
I post new items daily, so always come back to see what's new!
Remember:
YOU ARE BRAVE.
YOU ARE BEAUTIFUL.
YOU ARE WORTHY AND DESERVING OF EVERYTHING YOU DESIRE
And Success always starts by saying YES to YOU!
I love you so much.
Let me know if you need help with shifting those beliefs or updating your wardrobe. You deserve to look like a superstar everyday!