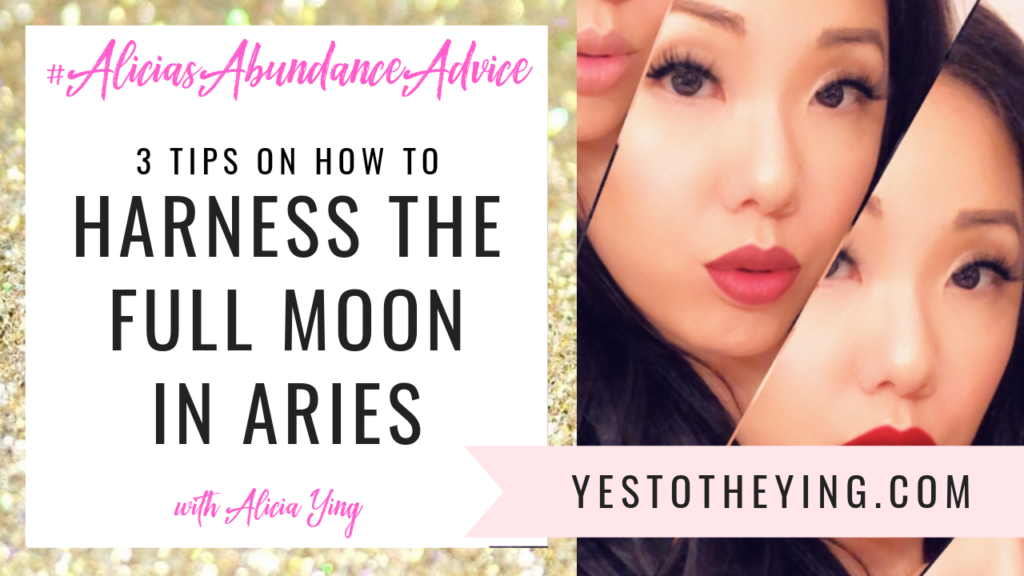 Hi friends!
Was that Full Moon in Aries last night intense or what?! WOW! Are you feeling this surge of desire to want to get things going?! We've still got the power of that full moon riding into today, so I thought I'd share a few helpful tips on how to utilize it to your advantage to attract more of what you want!
Last night's full moon is an especially significant one because this Aries energy is really wanting us to do whatever it takes to seriously STEP INTO ALIGNMENT.
Alignment with our goals.
Alignment with our values.
Alignment with our beliefs.
Alignment with our relationships.
Alignment with our soul.
This shit is no joke and it's something that I am finally ready to sort this out once and for all!! (Remember— we are in the last 90 days of 2019; the last chance to really build that solid foundation of success for all your dreams and desire. Because when 2020 comes, it is a whole new 60 year cycle! —> 12 years of each Chinese zodiac animal + 1 cycle of each animal in each of the 4 signs = 60. SO— what do you want the next 60 years of your life to be like? #justsaying #itsabigdeal)
NOW— before I go and put way too much pressure on you, I want to ease your mind by letting you know that you don't have to figure it ALL out right now. (phew!) Because trust me— my life has been a f*cking shit show the past month or so as karma has come in and done some major house cleaning for me (in the best way possible of course! Narcissistic friends— BE GONE! Shady opportunities— BYE. Products & services that drain my fucking energy— SEE YA! #byefelicia)!
If you are going through similar things like me, aka leveling up like a mofo, learning major lesson after major lesson after major lesson, realizing your true worth, and getting a way clearer understanding of what you want out of life, then good news—
There are 3 things you can do to take advantage of this Full Moon in Aries energy tonight!
#1. SIFT OUT WHAT IS NOT IN ALIGNMENT.
SO— while we don't have to figure it ALL out right now, what we DO need to do— what would be BENEFICIAL for us to do— is to ask ourselves this one pertinent question:
WHAT ALIGNS WITH MY LIFE & LONG-TERM GOALS?
If it aligns, keep it. If it doesn't GET RID OF IT.
The faster you weed shit out, the better you will be!
Here's a quick action step you can do to answer that question:
Get a piece of paper and write down all the things that you've got going on in your life. Job, work, people, relationships, things, situations. Whatever has been on your mind lately, especially regarding anything that has to do with your long term goals and your relationships.

Go down the list and ask yourself: DOES THIS [THING/PERSON/SITUATION] ALIGN WITH GOALS AND VALUES?

If the answer is a HELLS YES!, put a huge star by it and KEEP IT! If the answer is NO, strike through that item and GET RID OF IT!
If you're having trouble deciding, close your eyes and envision your ideal life. The life you are working towards. The life without the stress, the drama, or the lack of abundance. What does that FEEL like? Take a moment and FEEL it. Then open your eyes and look around. Does the thing on your list LOOK like what it feels like what you just felt? If so, KEEP IT. If it doesn't, if you have to pause— GET RID OF IT.
And when I mean "get rid of it", it doesn't mean you have to use Aries's fiery energy to be a blunt bitch about it. I mean, you CAN, BUT— you can also utilize the Libra energy we have right now to say "No thank you" with class and walk away. Getting rid of the shit in your life can be a total graceful process 🙂 But you can totally use the fiery energy of Aries to burn those energetic cords so they no longer tie you down! #liberatingAF
#2. DECIDE WHAT YOU ARE 100% COMMITTED TO.
The Sun is squaring Pluto which is giving us this AWESOME energy that helps drive us to FOCUS on what we really want to do. What truly lights us up inside! What we would do come rain or shine, money or no money, whether 1,000 people are watching or whether no one is watching.
What are you 100% committed to doing for your long-term goals?
If the word "commitment" freaks you out, ask yourself this instead:
What do you want to FOCUS on?
This Sun squaring Pluto is giving us this PUSH and DRIVE to become laser focused on getting what we desire.
Here's a truth: YOU ALREADY KNOW WHAT YOU WANT.
You know.
You KNOW!
Think back to last year at this time— what happened then? What drama happened? What relationship lessons did you learn?
You experienced shit you didn't want back then, so now you know what you truly want. And doing step #1 above totally gives you the CLARITY for what you DO want. #hellsfuckingyeah
The answer to this question doesn't have to be extremely detailed or long. It can be as simple as:
I am 100% committed to posting 1 blog post every Tuesday no matter what.
My main focus from now on is to love myself more.
My #1 priority everyday is to doing one thing that makes me feel like a fucking BOSS!
Decide. Commit. Then do it. And make sure it feels SO FUCKING GOOD when you think about doing that thing and when you are actually doing it! We wanna keep that fire in your belly LIT!
#3. VIBE WITH YOUR LONG-TERM VISON/GOAL EVERYDAY
Vibe with it? Haha— yes! Let me explain!
What i mean by "Vibe-ing" with it is to take a few minutes everyday to FEEL how it would actually feel if you already have reached your goal (aka got the money, met your soulmate, reached the fame and success you wanted, etc).
SO— first, close your eyes again. What would it feel like if you just got everything that you have been asking The Universe for? What would it FEEL like? Not LOOK like. But FEEL like.
Once you know what that feeling is, open your eyes and do something today (and everyday) that makes you feel that way.
Example: One of my long term goals is to have a $100 million empire. Envisioning having that makes me feel EXCITED and IN LOVE with my life! SO— one action I can commit to doing that make me FEEL excited and in love would be to list 5 new items that I LOVE with the intention of making someone incredibly happy when they put it on!
Another example: Another one of my long term goals is to feel more EASE. To be less stressed you know what i mean? SO— one action I can take everyday that I can take is to listen to my body. WHICH MEANS— if my body says rest, REST. If my body says, wake up and GO, I wake the fuck up and GO! If my body says, take your time, then — you've got it!— I simply take my time getting my tasks done instead of rushing and stressing out like a mofo.
To recap:
#1. SIFT OUT WHAT IS NOT IN ALIGNMENT.
#2. DECIDE WHAT YOU ARE 100% COMMITTED TO.
#3. VIBE WITH YOUR LONG-TERM VISON/GOAL EVERYDAY
What's so glorious about this energy is that it is giving us all a chance to reclaim our power and really start creating our lives the way that WE want it to look! It's so exciting!!
I hope these tips helped!
If you need more guidance or help, get an emailed 4 card tarot reading for only $44! (This week only!)
CLICK HERE to purchase!
YOU ARE BRAVE
YOU ARE BEAUTIFUL
YOU ARE POWERFUL
YOU ARE STRONG
YOU HAVE EVERYTHING IT TAKES TO SUCCEED
AND– Success always starts by saying YES to YOU.
I love you so much!